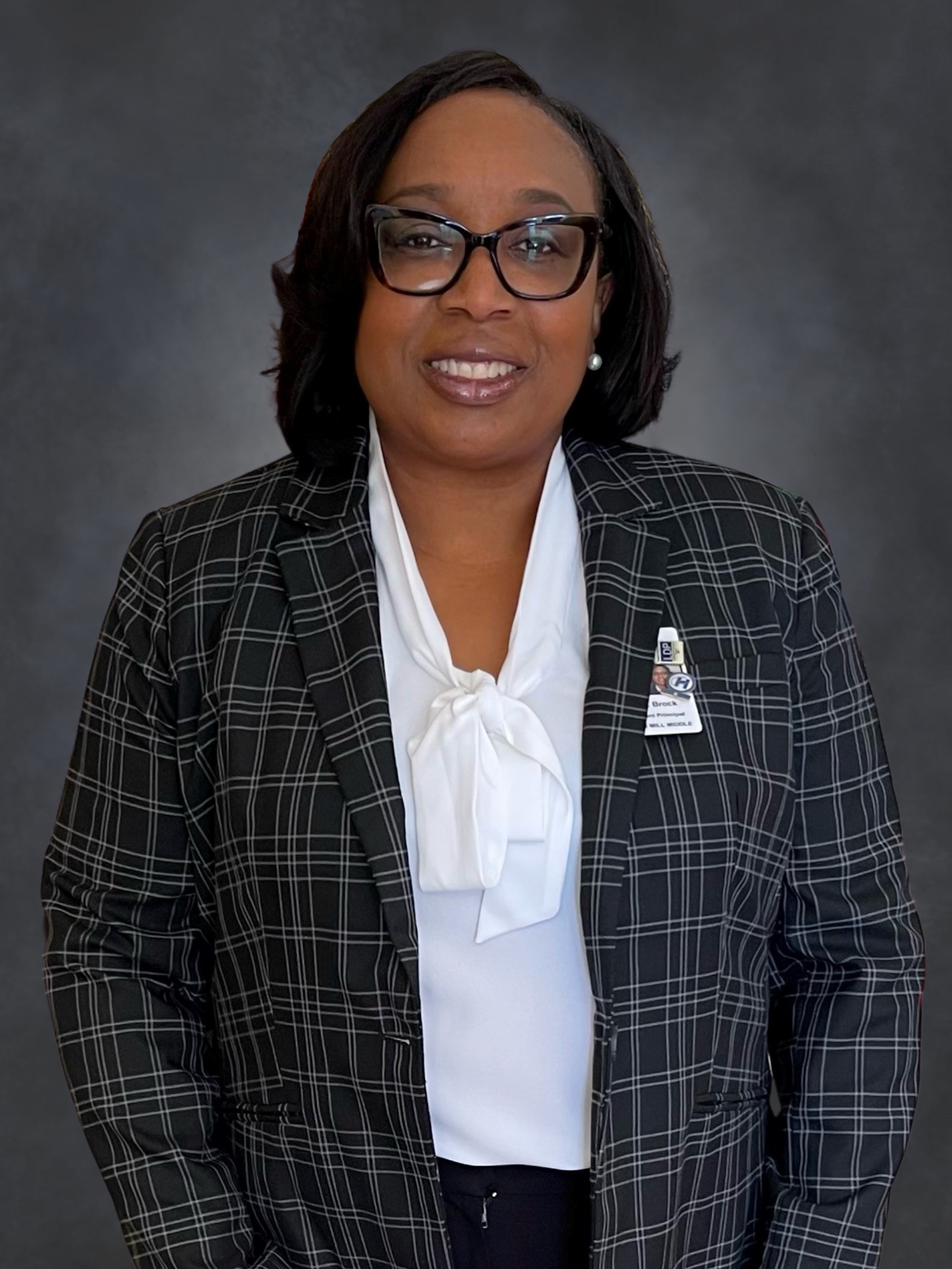 Dr. Dana Brock, Principal
Dr. Dana Brock was named as the next principal of Miller Elementary School during the Houston County Board of Education meeting held on January 17, 2023. Dr. Brock will begin this role in June after the current principal, Mrs. Elizabeth Johnson, retires. Dr. Brock currently serves as an Assistant Principal at Feagin Mill Middle School.
"I am thrilled and honored to be the new principal of Miller Elementary," said Dr. Brock. "I can't wait to serve this amazing school community and work with our staff, students and parents to ensure that our Mighty Rockets keep soaring."
Dr. Brock began her teaching career at David Perdue Elementary teaching second grade. After transferring to Russell Elementary, she taught third and fifth grade. She began in school administration as an Assistant Principal at Kings Chapel Elementary and Langston Road Elementary.
Dr. Brock received a Bachelor of Science in 1996 and a Master of Science in Early Childhood Education in 2001, both from Fort Valley State University. In 2003, she received her Educational Specialist in Curriculum Instruction and Administration Management from Nova Southeastern University. Dr. Brock also holds a certification in Georgia Performance-Based Leadership from Columbus State University and a Ph.D. in Curriculum and Instruction from Mercer University.
Dr. Brock is married to Alonzo Brock, and they have three children.
Mrs. Katina Gibson, Assistant Principal of Instruction
Mrs. Katina Gibson has been an educator for 26 years. She was born and raised in New Bern North Carolina. As a graduate of East Carolina University, she received a Bachelor of Science in Early Childhood Education. Mrs. Gibson moved to Georgia in 1996 with her husband, Brent Gibson, who graduated from Northside High School in 1991. She obtained her Master's Degree from Walden University in Reading and Brain- Based Instruction. Mrs.Gibson received her Specialist Degree from Nova University in Curriculum and Teacher leadership, while working as the Instructional Coach at Shirley Hills Elementary School. She has been the Assistant Principal for Instruction at Miller Elementary School for 6 years. She is currently completing her Doctorate Degree in Curriculum at Columbus State University.

Mr. and Mrs. Gibson have 2 children together, Brenton Gibson Jr. a senior at HOCO and Desmere Gibson Robinson, who will begin her teaching career as a math teacher at Perry Middle School in the fall of 2020.
Ms. Jacqueline Hodges, Assistant Principal of Discipline
Ms. Jacqueline Hodges holds a Bachelors and Masters of Science degree in Early Childhood Education from the Fort Valley State College and University. She began teaching Kindergarten at Central Elementary and High School in Talbotton Georgia in 1993. The following year Ms. Hodges obtained a Pre-Kindergarten position in Houston County and has taught since then Kindergarten, Fourth grade and served as an Early Intervention Program teacher in Mathematics. Ms. Hodges was awarded the 2002-2003 Lindsey Elementary School's Teacher of the Year.
Additionally, Ms. Hodges holds a Reading and Gifted Education Endorsement and Education Specialist degrees in Curriculum and Instruction and Educational Leadership from Georgia College and State University. During the 2016-2017 school year

She has two children, Shaniqua' and Taylor and one grandchild, Laylah.